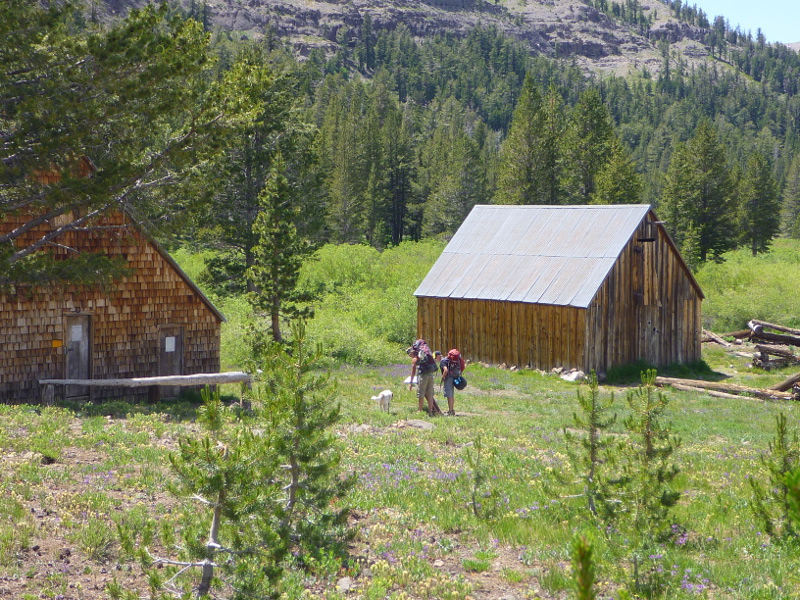 The beautiful setting of the Meiss Family Sommer Residence can be reached by a three-mile-hike (one way) along the Pacific Crest Trail (PCT), starting northwards from the Highway 88 parking area just a short walk or drive downhill from the Carson Pass Information Center.

Half-way between the Carson Pass and the Meiss cabin, hikers find themselves on a saddle, which during early summer months is covered with flowers such irises. This saddle offers impressive views of the Round Top massif in the south and the Lake Tahoe basin in the north—beyond the Round Lake/Dardanelles area.
From the saddle, the PCT winds downhill into the forest-surrounded Meiss Meadow. The historic cabin structures are found on the left side of the PCT, while hiking northward. An on-site information board brings the "early days" of the Meiss Meadow alive:
The Meiss cabin was built by California pioneer Louis Meiss, who emigrated from Hesse Darmstadt, Germany with his parents in 1842. The Meiss's moved west to Drytown, California by wagon train.

In 1878 he bought the 1,000 acre 'Summit Range' in Alpine County for summer grazing. This land included the present day Meiss Meadow. Along with their 2 son and 8 daughters, Louis and Elizabeth built a two-story frame cabin and log barn on the Meiss Meadow site. According to the dates carved in the walls, construction was completed around 1880.

At the turn of the 20th century, Louis' sons Benjamin and Frank began managing the ranch. After Louis' death in 1905, Benjamin, his wife Jennie, and their four daughters continued the family tradition of summering at Meiss Meadow. One of their daughters, Evelyn Meiss, recalls:

"My father ... drove his herd of cattle by horseback, taking five days, through Plymouth, Silver Lake, and Caples Lake ... to our range for the summer ... My three sisters and I had many a lovely summer fishing and riding horseback. Once a week some of us would ride our horses to Meyers to pick up our mail. It took us most of the day for the trip. My mother, in the meantime, would either make ice cream to be frozen in the snow bank, or bread and biscuits in the wood stove."

— Evelyn Meiss Richards, June 2001

The Meiss family sold the land and the cabin to the Schneider family in 1936. In 1965, the Forest Service acquired the land through a land exchange for public use.
Under the motto "Enjoy but do not destroy," a notice reminds visitors that historical remnants in the Meiss cabin vicinity are fragile, irreplaceable and protected for the benefits of all of us.

A free Meiss Country Hiking hand-out map, sketching trails, lakes and mountain peaks between the Big Meadow Trailhead (Highway 89) and Highway 88, is available at the Carson Pass Information Station.