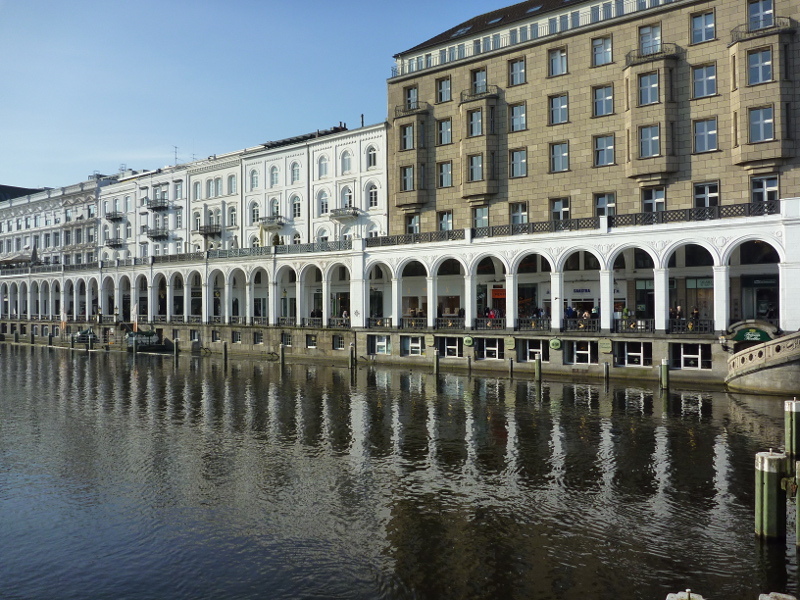 Although Hamburg in northern Germany is not built on water like Venice, one often gets just that impression. Hamburg's downtown area stretches between the river Elbe and the Inner Alster Lake (Binnenalster). The latter is an artificial lake formed out of the river Alster. The Lake and the harbor district at the river Elbe are connected by a canal named Alsterfleet. The Alsterarkaden edge one side of this canal between Jungfernstieg and Adolphsbrücke.

The Alsterarkaden and the houses associated with the arcades were built between 1844 and 1846 after Hamburg's Great Fire in 1842. A placard in the arcade hallway explains that the architect Alexis de Chateauneuf (1799-1853) played a major role in the design of the Alsterarkaden. Born in Hamburg as the son of a French immigrant, he is well known for his architectural designs in his home city as well as in London and Oslo [1].

The Alsterarkaden are a pleasant and upscaled shopping archway—both on rainy and sunny days. Small tables and chairs under the arcades invite to stay for a drink, lunch, cookies or pastry. A cultural Hamburg guidebook from 1981 tells us that outdoor café tables are set up during the summer months [2]. I was surprised to find them out there at the end of February 2013–with guests being served and enjoying the winter sun. The white-painted walls and arches will always brighten your day. Through the arches you can view passing sight-seeing boats and Hamburg's magnificent city hall.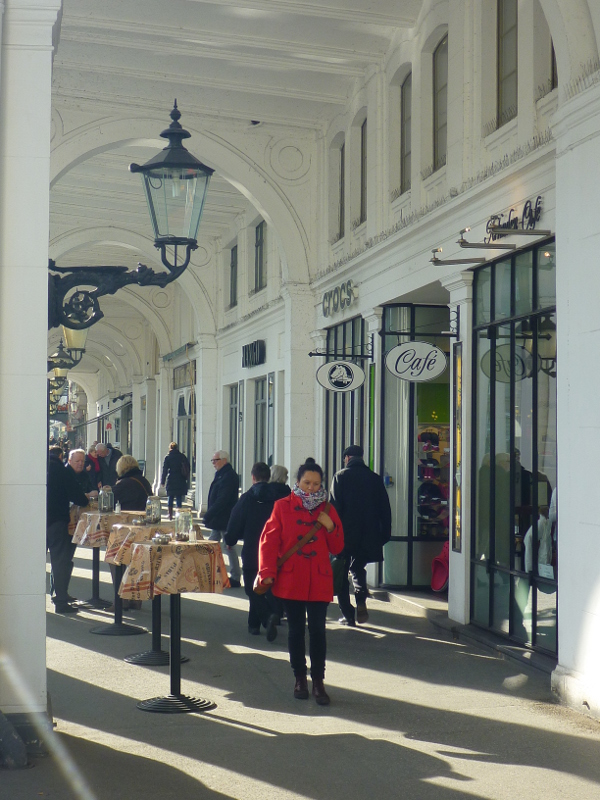 Getting there

The Alsterarkaden are about half a mile away from Hamburg's Central Station (Hauptbahnhof). The easiest way to get there is by walking through the Mönckebergstraße, a popular shopping mall, which you will enter by exiting the train station through the southwest gate. At the traffic light cross the Steintorwall and follow the Mönckebergstraße eastwards until you will arrive at the city hall (Rathaus). From the city hall plaza you will see the arcades across the canal, which you can cross via Adolphsbrücke or Schleusenbrücke.

If you have more time, you may want to take a different route that takes you along the scenic bank of the Inner Alster Lake (Binnenalster). Instead of crossing at the traffic light, turn right and take the Glockengießerwall. Pass the outdoor sculptures and the art museums (Hamburger Kunsthalle and Galerie der Gegenwart). In front of the Cube Café and Restaurant cross the Glockengießerwall at the traffic light. Then cross the Ballindamm to get onto the promenade. Stroll to the southern corner of the lake. There, turn right on Jungfernstieg and cross it to enter the Alsterarkaden. Here as well as at the city hall plaza and the Hauptbahnhof you also have access to subway train lines.

Continuing south along the Alsterfleet will take you to the river Elbe, Hamburg's historical warehouse district (Speicherstadt) and vista points for Elbphilharmonie viewing.