Cities worldwide are competing for international recognition and architectural highlights. The Free and Hanseatic City of Hamburg in northern Germany is joining this race by building a shiny-glass-waved philharmonic auditorium on top of an old red-brick warehouse. This historic-turns-futuristic concert hall complex is called Elbphilharmonie. The Greek-rooted German word Philharmonie means philharmonic auditorium or philharmonic hall and the prefix Elb refers to the River Elbe, which connects the port of Hamburg with Europe and overseas.

The map below shows the location of the Elbphilharmonie at the tip of the Sandtorhafen across the Kehrwiederspitze. This area is part of Hamburg's historical warehouse district, the Speicherstadt, which is currently redeveloped for many uses by combining residential, recreational, commercial, touristic and cultural projects.

The construction of the Elbphilharmonie began in 2007, but was on hold for some time. In February 2013, an agreement was reached between the City of Hamburg and the construction company Hochtief to continue with the ambitious and expensive landmark, although the costs will far exceed the originally projected sum of 77,000,000 Euro [1]. Once completed, the Elbphilharmonie will house the acoustically isolated Grand Hall (seating capacity of 2,150), a smaller Recital Hall, studio and rehearsal rooms, residential flats, a museum, a hotel, a public viewing platform and an underground (underwater) garage [2].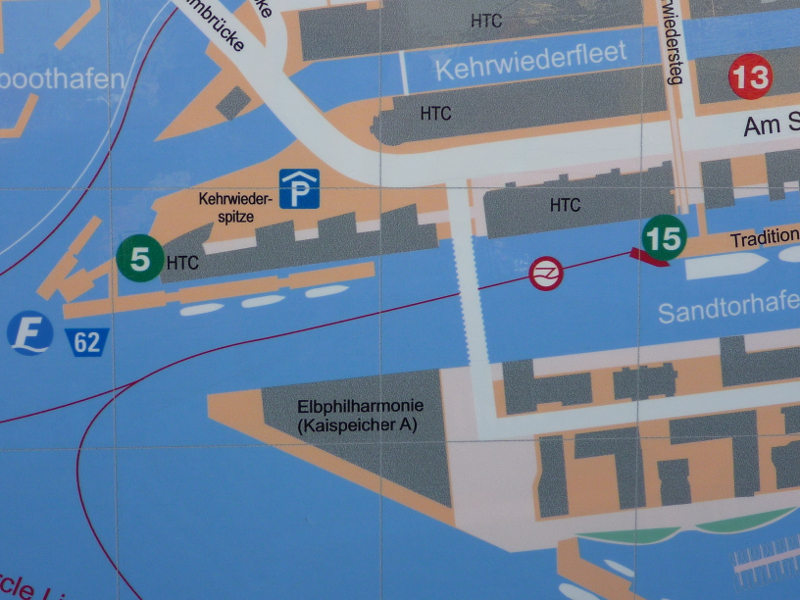 Getting there
From the southeast corner of the plaza in front of Hamburg's City Hall (Hamburger Rathaus), go southwest on Großer Burstah street for about 600 ft and turn left into Holzbrücke street, which continues as Mattentwiete into the Speicherstadt. After crossing the Kehrwiederfleet turn right on Am Sandtorkai. From here on you will always have the Elbphilharmonie in focus. You may want to get all the way to the end of Am Sandtorkai (without passing again over the Kehrwiederfleet) and walk down to water level at the Kehrwiederspitze, from where you will be able to view the Elbphilharmonie site across the mouth of the Sandtorhafen.