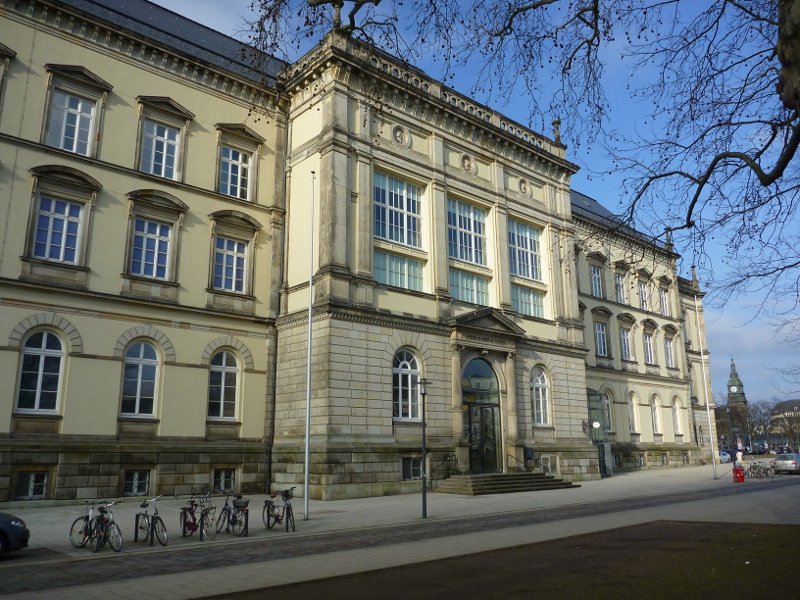 Hamburg's Museum of Arts and Crafts (Museum für Kunst und Gewerbe), in English-language texts also referred to as Museum of Decorative and Industrial Arts, was designed between 1873 and 1875 by Carl Johann Christian Zimmermann. It opened in 1877 under the official name Staatliches Technikum und Museum für Kunst und Gewerbe (State Center for Technology and Museum of Fine and Useful Arts). It's first director was the scientist, jurist and art champion Justus Brinckmann (1843-1915) [1-3].

The museum is particularly notable for its collection of historic keyboard instruments, the Hanneforth collection of experimental violins (donated in 2011), 17th- and 18th-century porcelain, carpets, furniture and other fine art works from the Islamic and Baroque epoch as well as the Art Nouveau and Expressionist movement.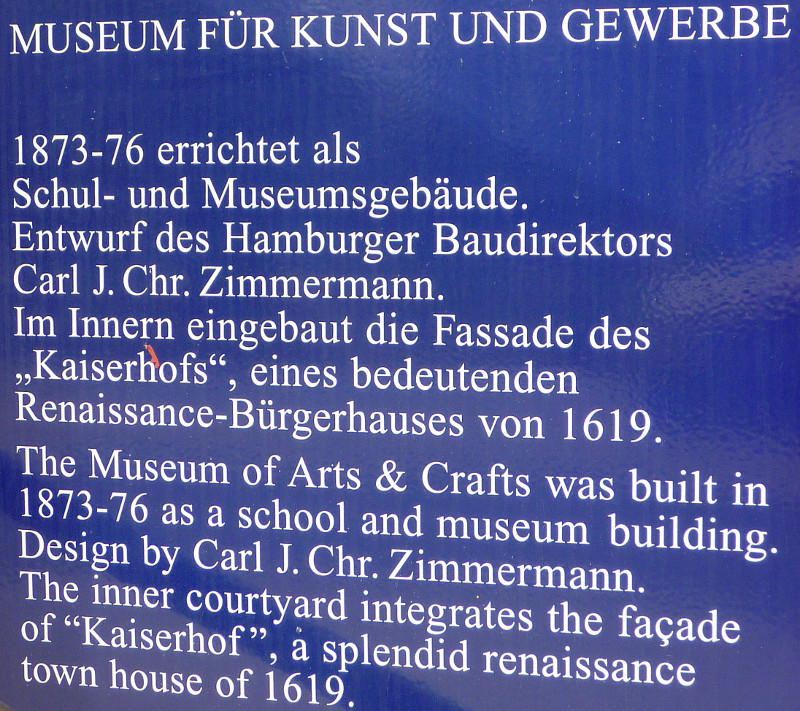 The keyboard collection includes harpsichords (for example, the Taskin harpsichord), spinets, virginals, clavichords and pianos. Of special interest are the miniaturized versions of harpsichords with such curiosities as an ottavina, a small cembalo manufactured by Leopoldo Franciolini, and a spinettino, a down-sized spinet. Also exciting is the surprising collection of ingenious instruments by the biologist Prof. Dr. Wolfgang Hanneforth, who has collected over 150 string and wind instruments [4,5]. My favorite instrument is the Stroh violin, developed by the engineer Johann Matthias Augustus Stroh (1828-1914). This is a violin with trumpet-shaped metal attachments for sound amplification, useful during the early days of recording. Visitors can listen to samples of recorded Stroh violins, replayed on animated audio tracks: who, before, has seen Tango dancers performing to the sound of Stroh violins?

The museum also features special exhibits, in which companies present their arts and crafts; for example the American company Pixar ("25 Years of Pixar"), which pioneered the making of computer animation films such as Finding Nemo and Monsters, Inc.: Pixars Trickfilmkunst in Hamburg.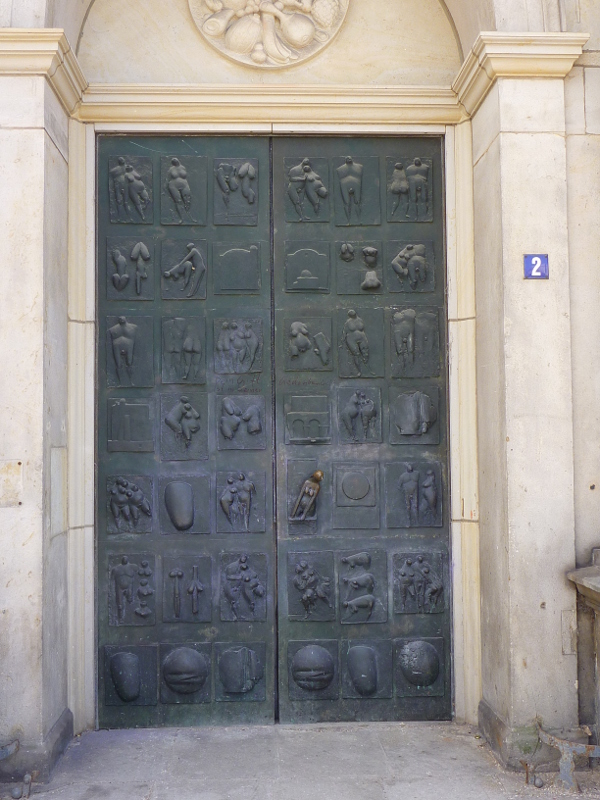 Getting there
The museum is only a short walk away from Hamburg's Central Station (Hauptbahnhof). Leave the station through the upper-floor southeast gate or the Hauptbahnhof Süd subway station exit. Cross the traffic lanes of Adenauerallee/Steintorplatz to get onto Brockesstraße. This road is located between Carl-Legien-Platz and the east-facing exterior side of the museum. At the northeast corner of the museum complex you will pass the bronze door (Brockesstraße 2) with its relief tesselation of erotic art scenes. You will find the main entrance at the center of the facade across the green park plaza. Relax in the park or scan the interesting accessoires and information plaques along the facade before entering the museum.

Address: Steintorplatz, 20099 Hamburg, Germany
Phone: +49 40 428134880
Hours: 11:00 am - 6:00 pm (Tuesday to Sunday)
Closed on Monday