Lower Lola Montez Lake is a small, picturesque lake in the granite-studded landscape west of Donner Summit and Andesite Peak in the Sierra Nevada. This lake and its sister lake, Upper Lola Montez Lake, belong to the Tahoe National Forest, while much of the Lola Montez Lakes Trail, which starts east of the fire station at the I-80 Soda Springs exit, passes private property. This hiking and mountain biking trail consists of single-track and gravel-road sections [1].

Lower Lola Montez Lake is a popular destination for both day-trip visitors and overnight-campers. The shallows next to the wooded shores entice anglers into close-by fishing of rainbow trout [2].

The lakes are named for the Irish-born actress and seductive dancer Lola Montez. She had been the mistress of King Ludwig, who made her Countess of Landsfeld. Wherever she went, scandals flourished. Eventually Lola made it to California to join the gold-rush spectacle, touring the mining camps in the Sierra foothills and performing on stage [3-5]. She is famous for her dances during which she enabled vistas underneath her multi-colored petticoats. But did she ever lift up the folds of her skirt to step into the blue-green water of one the lakes that are named after her?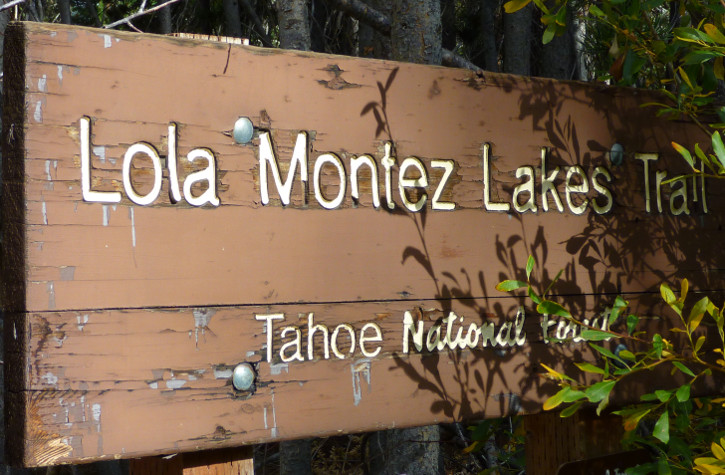 Getting to Lola Montez Lakes Trailhead

The trailhead is located just north of Interstate 80 at the Soda Springs exit. After exiting the freeway, stay on (when coming from Truckee) or get to (when coming from Sacramento) the north side of I-80. There, turn right and follow the paved road passing the fire station. This road ends at a gate. Shortly before arriving at the gate, you'll see the shown trailhead sign saying "Lola Montez Lakes Trail." Follow the well-marked route to the Lola Montez Lakes. You'll reach the lower lake first, just a few steps west of the junction of the Lola Montez Lakes and Hole in the Ground Trail.
References and more to explore
| | |
| --- | --- |
| [1] | Mike White: Afoot & Afield, Reno-Tahoe, A comprehensive hiking guide. Wilderness Press, Berkeley, California, 1st Edition August 2006, 2nd printing 2008, pp. 82-83. |
| [2] | Dave's Sierra Fishing: Lower Lola Montez Lake Fishing, Nevada County [www.davessierrafishing.com/destinations/lolamontez.html]. |
| [3] | Lola Montez: The Spider dancer [thestormking.com/tahoe_nuggets/Nugget_143/nugget_143.html]. |
| [4] | Sunderland Echo: Racy life of our Lola [www.sunderlandecho.com/news/racy-life-of-our-lola-1-1106330]. |
| [5] | WikiSource: The Encyclopedia Americana (1920)/Montez, Lola [en.wikisource.org/wiki/The_Encyclopedia_Americana_%281920%29/Montez,_Lola]. |